I took a look at Pinterest yesterday for the first time and I have requested an invite. Not sure how much I'll use it but the theory sounds good 'Pinterest is a place to catalogue the things you love' I am forever coming across 'stuff' all over the internet and it sounds like a damn good idea to be able to quickly pin something you like to your board. For example right now there this gorgeous door calling out to me:
Original can be found here
Isn't it lovely, I can just picture this at The Hovel somewhere, not entirely sure where but I can work on that bit. On Pinterest you can follow the link right back to the original location as well as see all the other folk who've either 'pinned' or 'liked' it themselves. I'm not sure how the whole structure of it works yet as I was very quickly distracted yesterday by this blog here: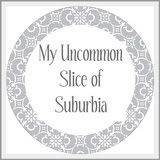 The owner of 'My Uncommon Slice of Suburbia' goes by the name of Kristin and by all accounts she's had this blog for just under a year. She has loads of inspiring photos and projects of their work on their family home with some fantastic ideas for decorating on a budget. Click the link above to take a look for yourself. What I really like though is that she weekly links to other folk all doing similar things – I could get lost for hours in all the gorgeousness that's out there. She's really inspired me to get on with all the bits and pieces we need doing around here.
Last but not least I've just signed up to Kim Glasson's Cafe to receive her wonderful texture freebies. Plus I've also just signed up for her Photoshop Skinny mini eCourse. This started a few days ago so I'll need to try and catch up somehow. I've seen lots of folk/blogs using Kim's textures and, presumably, her tutorials and all of the work looks pretty damn good so I'm really looking forward to having a play.
That's all for now, I think I'll grab a coffee and spend a little while cooing over all the wonderful 'stuff' I'm going to do – who am I kidding, still at least I can dream can't I?
Thanks for dropping by and please feel free to leave me a comment.
Wendy xx